Student Led Event with Emily Diamand
Monday 20 June was our annual Student Led event at at Allerton High School and this year it featured the fantastic Emily Diamand, author of Flood Child and Ways to See a Ghost.
Student Led events are one of our favourite parts of our work in schools as they offer secondary school students the chance to plan, organise, run and an evaluate a day of events for local primary school children.
This year students from KS3 at Allerton High School hosted pupils from Allerton C of E, Wigton Moor and Alwoodley Primary schools over two sessions. Each session began with a short talk from Emily about being a writer and the importance of not worrying about writing perfectly first time, but instead focusing on telling the story you want to tell. She shared some pictures of the stories she wrote as a child and reminded everyone that no writer, not even J.K Rowling, writes the perfect story on the first draft!
Emily's books often feature ghosts and magic and she talked about how both can be found in modern life, not just in old stories. Lots of the pupils had their own spooky stories to share, including doors opening and closing on their own, a strange old house and a sighting of a scary black dog! With some help from the Inspiration Table the pupils then started to create their own characters, making notes or sketching out their ideas. There were lots of great ideas, including a ghost that waits at bus stops and another that leaves its impression on mirrors!
The Student Led event was organised by a group of 10 students, including 2 mentors from year 10 who were part of last year's planning group. With the help of Dawn Cameron, our Development and Outreach Officer, the group met regularly to plan the day. They invited the participating primary schools, as well as Emily Diamand, ensuring everything was organised and set up properly on the day, including creating impressive displays to welcome everyone and showcase Emily's books. As well as making a short speech to start the day, they took photos and helped the pupils with their writing exercises. At lunch the planning group reviewed how the morning session went and what could be improved for the afternoon. They will also meet later in the week for a full evaluation session.

Rachel Feldberg, Festival Director said, 'We really love these Student Led events, as not only do we get to bring pupils from several primary schools together with an author for a day of exciting activities but we also work with a team from Allerton High for a few months and help them to develop their organisational and leadership skills. It is always really pleasing to see how the planning group grow in confidence over the course of the project and their work on the day was extremely professional. All of the students invovled should be very proud of themselves!'
Anne Walker, Librarian at Allerton High School said 'What a brilliant day! Emily Diamand's workshops for our primary school visitors were lively, creative and great fun. But none it could have happened without the AHS Ilkley Literature Festival Student Team! They were superb – every one of them played their part in planning, organising and hosting the day. Invitations, displays, the author's brief, certificates, refreshments, helping the children and much, much more – they did it all brilliantly. They were determined to make this a special and fun experience for everyone and it was great to see that happen.'
Rachel and Eugenia, part of the student team from Allerton High School said "A group of ten Allerton High students partnered with the Ilkley Literature Festival and hosted an author event on the 20th June 2016.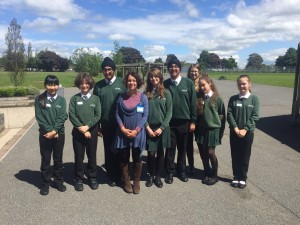 Author, Emily Diamand, who has written amazing books, such as Ways to see a Ghost which was featured in the Leeds Books Awards in 2013, kindly lead a brilliant 'ghost and magic' writing workshop for primary school children.
During the day, Alwoodley, Wigton Moor and Allerton C of E, each sent a group of year 5/6 students who were very excited and enthusiastic to take part. In the end the children produced some very intriguing characters and an extract from a story with assistance from Emily Diamand.
Emily has written four books (Ways to see a Ghost, Voices in Stone, Flood Child and Flood and Fire) and she is in the process of writing her fifth, which will be set it Yorkshire.
We were very grateful that she ran this event because the Ways to see a Ghost book excerpt that she read out is what she based the workshop on and her experience with ghosts and magic was great too!
The teachers that helped out supported the children, yet challenged them too by making them think. Mrs Walker, Miss Abbey, Dawn Cameron and all the Primary School staff were are really great and we are so grateful that they gave us this opportunity and they not only helped organise the event, but they helped prepare and assist the children too!
Overall, the event went really well, it was well planned and the children enjoyed it!
If you are interested in running a Student Led event at your school or would like more information about our development programme in general please contact Dawn Cameron.