Primary schools events with Steve Cole on Monday 12 October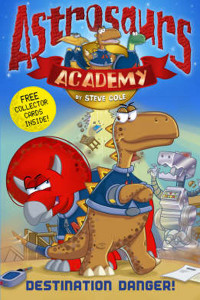 Our special afternoon event on Monday 12 October for School groups is open for booking NOW.
Steve Cole, will talk to Year 5 and 6 pupils about his books and writing. There will also be a special Twilight session for teachers, librarians and other professionals working with children.
Steve is the the author of the popular Astrosaurs, Cows In Action, and Astrosaurs Academy series, he has also written a number of original Doctor Who novels and has taken over writing the Young Bond series. His books have sold over 3 million copies and featured as part of World Book Day.
Year 5 & 6 Event
1.30pm Children £4, free staff ticket with every 10 pupils
The event will last 60 minutes and Steve is happy to meet children and teachers afterwards.
Twilight Event – for teachers and librarians
4 – 5pm FREE with tea and biscuits.
Both events take place at Kings Hall, Station Road, Ilkley, LS29 8HB(opposite Ilkley rail station)
Please call 01943 601210 to book tickets.
Booking is essential for both events as places are limited.