A showcase of the best local talent
Held over one weekend rather than spread throughout the main festival, the ILF Fringe Festival is a smorgasbord of delights and surprises for audiences to sample, produced and hosted by our inspirational partners, Playful Being.

Some testimonials from Fringe performers:
"Being associated with the fringe has opened other doors for me publicity wise in the lead up to the event and since, so thank you again for inviting me to take part and good luck with any other upcoming projects." Sarah Davis, author of Baby Daze
"Just wanted to say on behalf of Night School Poets, thank you for a great experience and an interesting weekend of writing, poetry and creativity. I personally had a great time and I know the others did. From the planning to the execution and my own attendance at a couple of events, the whole thing was great… It was a fantastic and very stress free experience, thank you." – Gary Cochrane, Night School Poets
Our vision is that Fringe events are: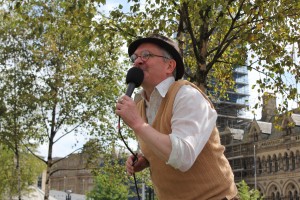 Inclusive, interactive and just a little bit different
Mix scheduled events with improvised pop-ups, drop-ins and promenades
Feature emerging writers, artists and performers as well as established ones
Showcase a diverse range of voices and genres
Blend the familiar with the new
All events are free and audiences are encouraged to drop in and out during the day.
Want to be part of the Fringe? Watch this space…

ILF 2020 Fringe applications will open in the Spring.