Be All Write
Welcome to Be All Write (Yorkshire pronunciation: "Be a'reet") a collection of reading and writing activities you can participate in from home.
We know that many of our supporters are self-isolating and social distancing to help delay the spread of the Coronavirus. We want to use our online platforms to encourage a love of literature and reading during these uncertain times.
We'll be adding more strands over the coming weeks as we respond to people's requests and see what people are enjoying, but for now we are launching Be All Write with the following initiatives: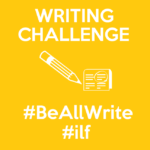 Be All Write – Writing Challenges
Every Monday, we will share a challenge/prompt to encourage creative writing. Whether it's poetry or a 10-word story, the challenges are aimed to inspire us to get creative. Share your work on any social media platform with #ILFwritingchallenge, or on through our online submissions, and we'll select a few to share! To see past challenges and entries, click here.
Be All Write – Weekly Book Quiz
Enjoy a new quiz every Wednesday in which you can pit your book knowledge against questions set by the ILF's very own quiz elves. You can take part in the quiz on either our Instagram or Online Quiz Platform, some questions are easy, some are downright tricky – but it's all good fun.
Audio from the Archive
If you didn't get chance to hear your favourite author's talk during the festival, you're in luck! Over the years, ILF has welcomed many authors and we have a vast collection of audio recordings of their enriching talks. Every Tuesday, we will be sharing a talk on our SoundCloud from our audio archive.
Bob's Book Club
Bob's Book Club is a virtual book club. You may wonder, 'why Bob?' This book club is named in honour of ILF's office dog, Bob.
With our readers, we will vote on which book to read and discuss. The book club is FREE and ANYONE can join. The discussion will take place on our Goodreads group Bob's Book Club.
Our next read is… Saving Lucia by Anna Vaught of Bluemoose Books. To join in the read and the discussion, click here.
---