Clare Dearnaley & Mark Carey
'Spark'
'Spark' is a short film that aims to stimulate far reaching thoughts on climate change. It follows glittering light traveling through darkness, shedding tiny glowing embers in all directions. Created with fire sparklers, the scenes are beautiful, playful, magical and delicate. Misleading.
How joyful, warm and mesmerising the flickering lights can be; but bright sparks can turn destructive. The evocation is of a landscape on fire.
With an ambient musical underscore of sinister tones that unsettle the visual imagery; initial quietness is replaced by a crescendo of cracking, hissing and roaring sound.
Filmmaker – Clare Dearnaley

Cinematographer – Mark Carey

Created with the assistance of their children during lockdown 2021.
About the artists
Clare Dearnaley is an Ilkley based Filmmaker & Artist, working independently and by commission, creating moving image for screenings, exhibition and online platforms. Recent Visual Art collaborations include 'Glorious Phantoms' for the National Trust Peoples Landscapes project and 'Dovetailing' with sculptor Juliet Gutch and composer Sally Beamish. Starting out as an Editor and moving on to Direct and Produce over a 20 year career in the Film and TV industry, Clare's credits range across genres with particular emphasis on Documentary, Travel and Arts. They include the award winning 'The Great Chinese Art Revolution', Channel 4 and festival released 'Breaking Ground'. Clare has a First Class degree in Fine Art and a Post Grad in Electronic Imaging from Duncan of Jordanstone College of Art, Dundee.
Mark Carey is Head of Cinematography at the Northern Film School at Leeds Beckett University. Mark started his visual career as a widely published reportage photographer before studying Cinematography at the National Film and Television School. His credits include drama, documentary, commercials, and music videos. Recently this has included Cinematography on art films that have exhibited at MoMA New York, BALTIC Gateshead, Whitechapel Gallery, European Capital of Culture Aarhus 2017, Venice Biennale 2013 and the drama feature film 'Disclosure' which premiered at the Palm Springs International Film Festival in January 2020.
I've been 'Sparked' and want to be a link in the Chain! How do I get involved?
That's fantastic! Getting involved couldn't be easier. Once you have your idea for creating a second link and have filmed, recorded, photographed or written your response, all you have to do is send an  email to fringe@ilkleylitfest.org.uk with the following information:
Your name and where you're based in Yorkshire
The name/s of the Link #1 artist/s you are responding to
The title of your own Link #2 'reaction' (if you have one)
A short description of your Link #2 piece
Your work as an attachment
(or, if the file is too big to send via email, please send your piece via WeTransfer, a free file transfer service available online)
Your social media handles (if applicable)
Link #2 'reactions'
'Etude for Hob Ignition' by Tim Woodson
"Etude for Hob Ignition uses the raw pulse of a hob clicking into life to explore how the rhythmic relationships that make up sound can quickly turn from playful to unsettling as complexity grows. Clare Dearnaley and Mark Carey's visual work 'Spark' introduced the idea of 'joyful, warm and mesmerising lights' turning destructive. 48.3% of all domestic fires in the UK are caused by cooking appliances and in Etude for Hob Ignition, the pulse of this innocuous, everyday utility soon threatens to overwhelm the soundscape as it spreads. Samplers and wavetable synths are used to transform the hob's pulse into related polyrhythms and harmonic content that become more sinister as new relationships are introduced."
About the artist
Tim Woodson is a musician and producer living in Leeds and recording as Hevelwood.


Been 'Sparked'? Your reaction could be here!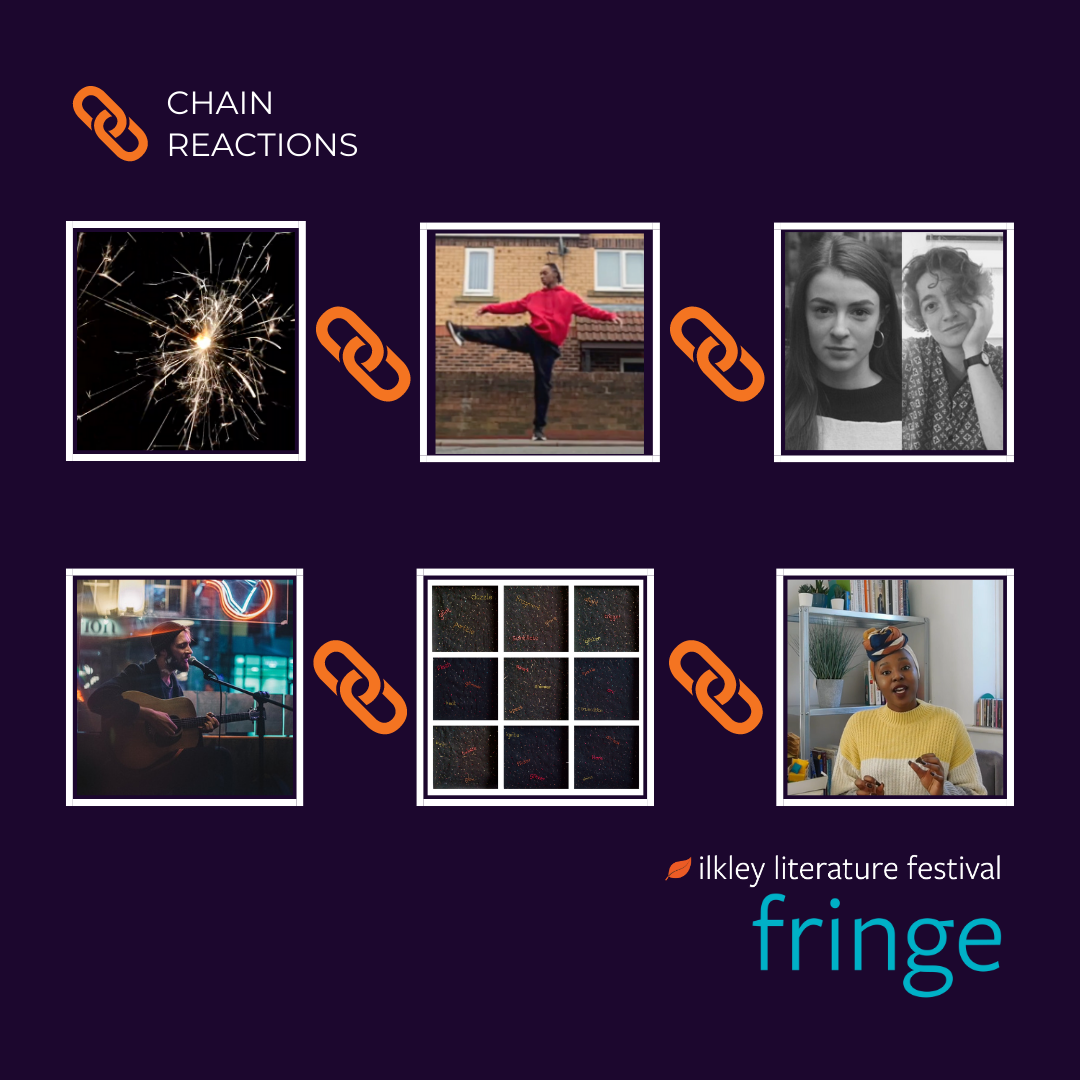 Get creating and email your Link #2 response to fringe@ilkleylitfest.org.uk