Harry Orme
'Shoreward'
This piece's structure is inspired by both the idea of a chain reaction and the idea of a creative spark. The piece is built in layers, with the first layer consisting of only one note (the 'spark'). More layers are added one by one, forming a chain reaction. As more layers are added, the tonality and rhythm become more defined, with each layer having to both accommodate and to build upon what's already there. Halfway through the piece, this progression is interrupted – we return to the original note, as if going back in time. Layers are added again, this time building towards a different tonality and rhythmic feel. This aims to represent another facet of a creative 'spark' – one single idea may inspire radically different responses from different people.
About the artist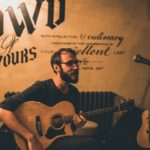 Harry Orme is a Leeds-based performer, composer, arranger and educator whose work spans a breadth of genres and styles, mostly centring around creative improvised music and contemporary folk. He studied jazz guitar at Leeds Conservatoire from 2010-13 and completed his Master's degree in composition and performance in 2020, during which he studied with Stuart McCallum, Lauren Kinsella, Dave Hamblett and Nancy Kerr.

He has toured his original compositions across the UK and Europe, and has opened for renowned artists across the folk and indie spectrum (including Big Thief, Sara Watkins, Tiny Ruins, Ciaran Lavery and Emily Portman). Since 2013, he has worked with Live Music Now to deliver workshops and collaborative composition projects in SEN schools, centres for adults with learning difficulties and homes for older people living with dementia.


I've been 'Sparked' and want to be a link in the Chain! How do I get involved?
That's fantastic! Getting involved couldn't be easier. Once you have your idea for creating a second link and have filmed, recorded, photographed or written your response, all you have to do is send an  email to fringe@ilkleylitfest.org.uk with the following information:
Your name and where you're based in Yorkshire
The name/s of the Link #1 artist/s you are responding to
The title of your own Link #2 'reaction' (if you have one)
A short description of your Link #2 piece
Your work as an attachment
(or, if the file is too big to send via email, please send your piece via WeTransfer, a free file transfer service available online)
Your social media handles (if applicable)