Louise Goult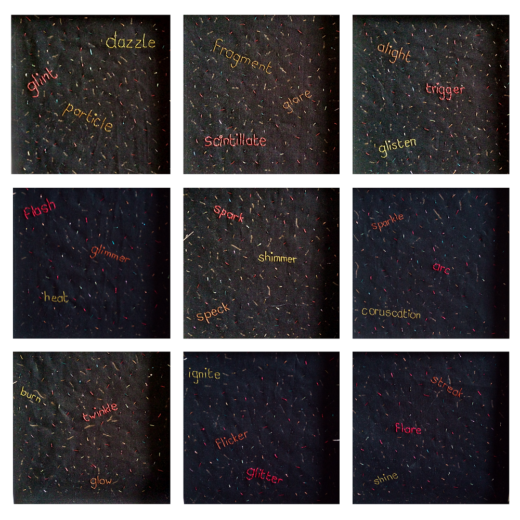 'Spark'
Spark is not only a burning particle but also a data processing computer programme, providing a data processing structure. Developing the idea of a structure in which to process information this textile artwork is supported by a wooden structure, holding and supporting the fabric. The mainstream meaning of spark is explored with a variety of synonyms hand embroidered across the background in a selection of bright colours often found in sparks. Fleck of metallic thread are scattered across the background representing actual sparks from a flame. Embedded into the background are scorched marks created with a soldering iron.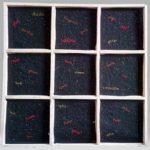 About the Artist
Louise Goult is a textile artist, creating contemporary pieces of artwork inspired by relationships and memories between people and the world around them. Her work is often based upon research, using the quirky and often overlooked to inform the final outcome. The work she creates contains a narrative for which the use of materials are essential to further communicate the story behind the work. She often uses non-traditional materials including wood, metal and found items. Much of her art contains preloved materials, this adds to the narrative leading Louise to consider who used them before and why – these musings often affect the final work created. In work strongly connected to place, she loves to use natural dyes to colour the materials; strengthening the relationship of the work to the place that inspired it.
I've been 'Sparked' and want to be a link in the Chain! How do I get involved?
That's fantastic! Getting involved couldn't be easier. Once you have your idea for creating a second link and have filmed, recorded, photographed or written your response, all you have to do is send an  email to fringe@ilkleylitfest.org.uk with the following information:
Your name and where you're based in Yorkshire
The name/s of the Link #1 artist/s you are responding to
The title of your own Link #2 'reaction' (if you have one)
A short description of your Link #2 piece
Your work as an attachment
(or, if the file is too big to send via email, please send your piece via WeTransfer, a free file transfer service available online)
Your social media handles (if applicable)
Link #2 'reactions'
'Cat's Wool' by Daniel Potts
"Louise's work employs an expression of a data processing programme as a frame, and it frames material which expresses notions of sparks. My piece, Cat's Wool, takes this idea of data processing and expresses this in the left hand/ bass of the piano music, which is reminiscent of the music of J.S. Bach (a highly mathematical composer). The right hand/ treble of the piano music expresses the spark synonyms and flecks in the material, as it is jaunty and plosive. On the whole, I was reminded of a cat playing with and batting about a ball of wool, because of the plosive flecks and the use of textile."
About the artist
Daniel Potts is Leeds born and bred. He is a composer, writer and bass guitarist.

https://danpotts.co.uk/

Been 'Sparked'? Your reaction could be here!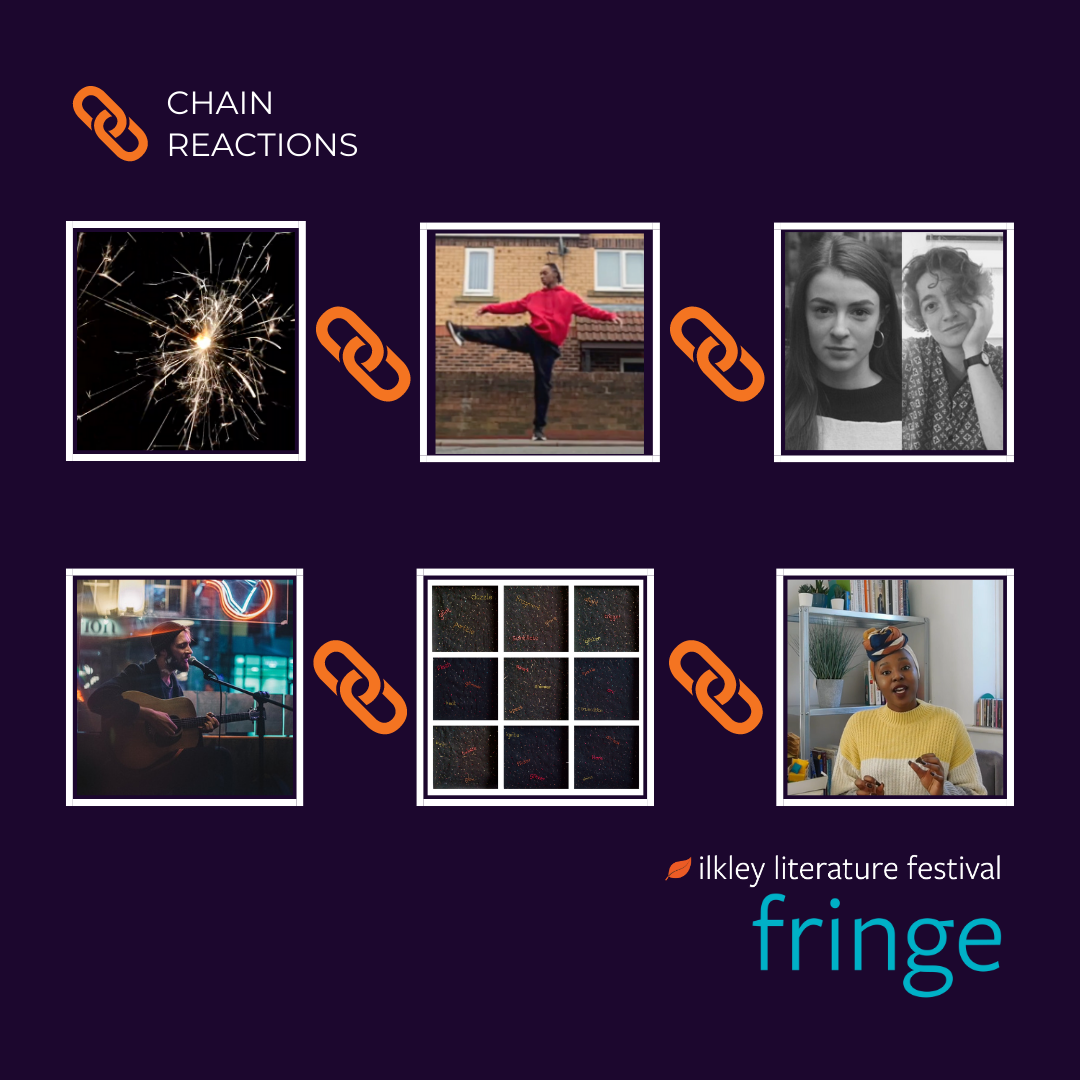 Get creating and email your Link #2 response to fringe@ilkleylitfest.org.uk