Ilkley Literature Festival 2020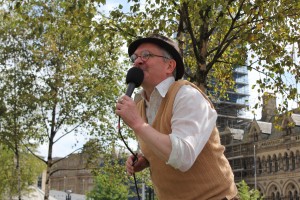 Good news! We're not cutting our Fringe… we just might be styling it differently.
It may be that the Fringe moves to the spring of 2021, or shifts to a purely online festival, but for now we're aiming for the usual dates in October – Sat 3 and Sun 4 Oct – and we'd love you to get involved.
Maybe you're an established performer, or maybe you've never had the time to explore your dream of performing. If you have time on your hands and an idea you want to bring to an audience (virtual or face-to-face), now's the time to bring it to fruition.
In many ways, there's never been a more challenging time to be planning a fringe festival, AND we all need hope, connection, creativity and inspiration right now – and that's our vision for the Fringe, whether it takes place in October or another date, whether it's virtual, in person or a combination of the two.
What are we looking for?
Surprise us. We want to see new ideas and innovative ways of entertaining an audience – whether it's on stage, outside in a courtyard, in a workshop setting, or from your living room.
You will be a group or individual from, or with strong links to, the Yorkshire Region. Our selection aims to showcase a range of art forms and events to reflect the diversity of the region. We welcome applications from Fringe newcomers and Fringe veterans alike.
Events can be 45-minute performances or interactive workshops, promenades or flashmobs, 15-minute pop ups, improvised interventions or anything else that fits with the vision of the weekend. The maximum time slot is 45 minutes, and shorter performances or pop-ups could be repeated.
This might be your first performance or a chance to present a new body of work. You might experiment with a whole new format or give existing work a new spin. We want you to think about how to make your event interactive and engage audiences in new ways, or how you could draw on other art forms as well as your own.
Last year's events ranged from improvised comedy to poetry slams; from moon-themed jazz to mass group readings ; from poetry prescriptions to papier maché 'Happy Balls', and so much in between.
Maybe this year we'll have a wandering minstrel, a circus skills workshop, an online flashmob…We can't wait to hear what you're going to come up with.
Technical Support
There will be a basic set up for some performances (staging, mics, projector and an amp). In the smaller venues and outside, where amplification is not needed, there will be no tech. Please bear this in mind when you're applying and show us how your performance can be as 'unplugged' as possible.
Financial Arrangements
Fringe performers are not offered any payment or expenses and admission to the Fringe is free.
Audiences are not required to book in advance.
More about our Fringe Producers
Jess Penrose and Mel Taylor of Playful Being are great believers in the transformative power of seeing the familiar with new eyes; of making the ordinary, extraordinary. Whatever they are doing creatively, they always aim to bring a playful approach.
Between them, they have over twenty years' experience as facilitators and event organisers. They are seasoned Event Managers for the main festival and this is their second year as producers of the Fringe.
How to Apply
To complete the 2020 Fringe Application Form, please click here.
We would love to see a glimpse of what our audiences will get to see, so please send us a video or showreel as an example of your work, if you can. You can upload this via the online Application Form.
Submissions open: 8 April 2020
Closing date: 15 May 2020. If you have missed this deadline and are still interested in applying for the Fringe, please complete the application form. There is a chance we may be able to find a space for you.
Should the Fringe take place in early October as planned, either in-person or by digital means, there will be a mandatory Fringe Briefing on the evening of 8 September which all performers MUST attend.

Some testimonials from Fringe performers:
"Being associated with the fringe has opened other doors for me publicity wise in the lead up to the event and since, so thank you again for inviting me to take part and good luck with any other upcoming projects." Sarah Davis, author of Baby Daze
"Just wanted to say on behalf of Night School Poets, thank you for a great experience and an interesting weekend of writing, poetry and creativity. I personally had a great time and I know the others did. From the planning to the execution and my own attendance at a couple of events, the whole thing was great… It was a fantastic and very stress free experience, thank you." – Gary Cochrane, Night School Poets