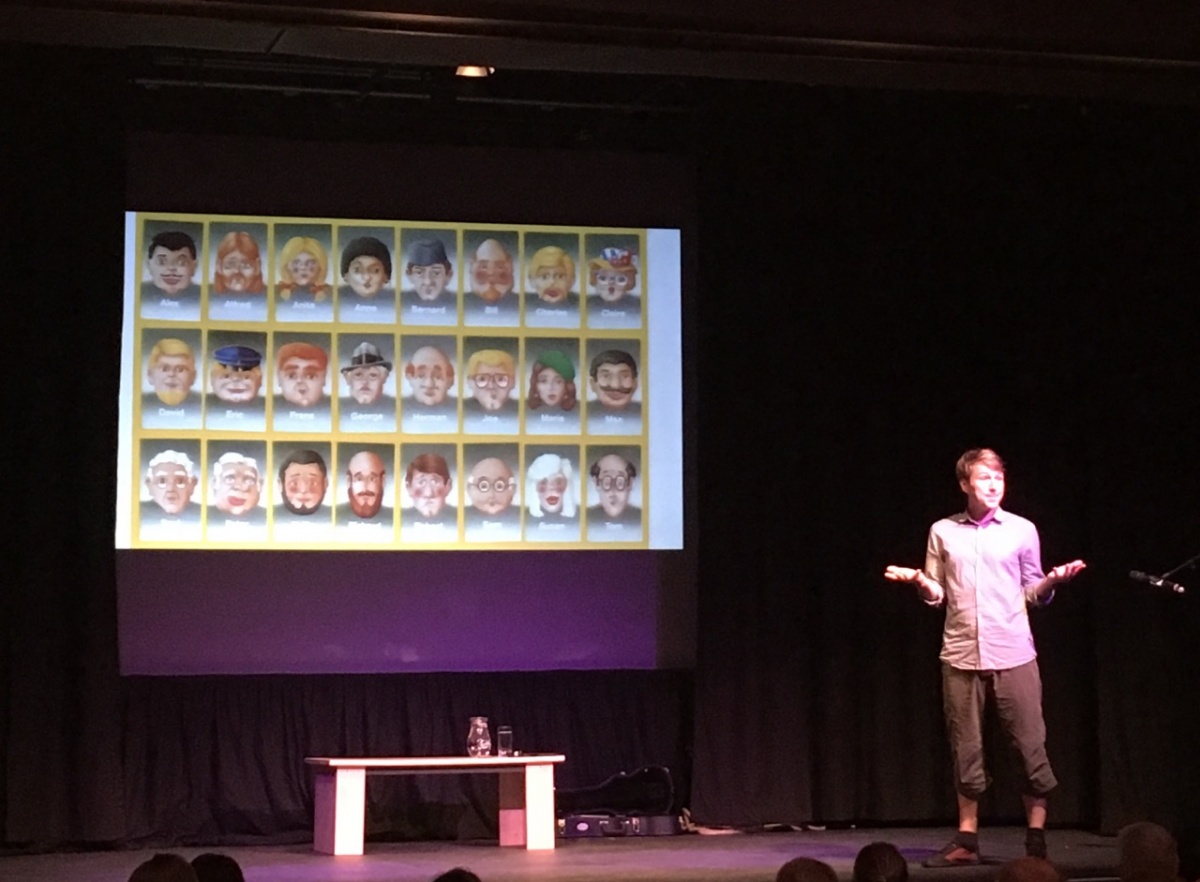 2017 Press Pack Reviews
Ben Faulks: What makes me a ME?
Reviews by our young Press Pack team
Ben Faulks strode confidently out on to the stage, a huge grin on his face and I can't say it was as I expected. I'd seen Mr Bloom before, starring in CBeebies show "Mr Bloom's Nursery" and I honestly expected him to be dressed up with the classic "Mr Bloom" accent and his vegetables alongside him. However he was dressed in usual everyday clothes and he looked almost like a different person but I did recognize him in a way.
Boundless energy entered along with Ben Faulks and we heard "are we feeling fit? Are we feeling fit this Saturday?" Excited exclamations echoed around the room and I could see the confusion on the children's faces when the man who entered wasn't the much-loved Mr Bloom they were all anticipating. The event started with an introduction to his new book before we read the book, which was made to influence and teach children to be themselves.
I thought the event would be aimed at younger children and a show that was not at all for adults but humour was included and the show was interesting and entertaining.
There were engaging activities throughout the whole who and the children were not bored for one minute. After reading the book there was a game of Guess Who? Inevitably, the children still called him Mr Bloom and they loved pretending to be seeds and growing into fruit and vegetables as they sang and buzzed excitedly.
Ben introduced another book he wrote, "Watch out for Muddy Puddles" and then engaged them in a discussion about what you need to jump in muddy puddles. They enjoyed a rain dance and joining in with "Singing in the Rain". Ben almost took them into another world by pretending to jump in muddy puddles, a bit like a comedy sketch.
He then read the other book to them and engaged them in even more activities. It was a fantastic event that I highly recommend for 3-7 year olds and their parents.
Olivia, age 11
---
What makes me a me? That's the question posed in the brand new picture book for children, authored by the well-known TV star Ben Faulks. Faulks is most famous for his work on Cbeebies as "Mr Bloom", a series for children aged from around 3-7 years of age.
As he lives in Yorkshire, it makes sense that he should be involved in the Ilkley Literature Festival to promote his newest book "What makes me a me?" From around 11.30am, young children and their parents queued up outside Ilkley Playhouse Wharfedale to wait for the star of the show…. "Mr Bloom". Inside the theatre, a strong smell of coffee filled my nostrils, perhaps beckoning exhausted parents into the foyer, reassuring with the familiar and comforting scent. Inside the theatre itself, parents struggle to keep their young children under control, mum's and dad's try in vain to calm down their exuberant offspring.
Suddenly, a man walks on to the stage. Scattered applause and a few exclamations from the audience signal that THIS is the man we've all been waiting for. Strangely though, not looking a lot like the iconic Mr Bloom. Nonetheless, he bounced around the stage, undeterred by the cries of excited kids and even the odd super-enthusiastic parent. His story of accepting who you are and what makes you you feels very relevant in today's society of "striving for perfection" and although easy to understand for the youngest children, it contains important messages about acceptance, diversity and most of all being "comfortable in your own skin". While the show could have easily been boring and "preachy" or silly and insignificant, the balance seemed right and there were even some moments where parents could have a laugh too, as well as their children.
Throughout the show, Ben used direct address, audience participation and a relaxed, conversational tone to create a comfortable, fun environment, with lots of interaction to make the show as engaging as possible. Considering Faulks' "pantomime-like" tone its hardly surprising that he is starring in the Woking pantomime this year, "Sleeping Beauty".
This show just proves that Faulks doesn't need his vegetables to entertain, and that "children's entertainment" can actually be fun and engaging for everyone.
Flora, age 15
---
"Are we feeling fit? Are we feeling fit this Saturday?" was what we were joyously asked as we entered Ilkley Playhouse (which is very comfy, well heated and with a handy café) this morning, not really expecting a lot. The cosy theatre was brimming with young children (about 3-7) eager to meet their favourite TV gardener Ben Faulks AKA Mr Bloom. At about 12.00pm, Ben bounded onto the stage, full of energy… and not looking anything like his alter ego (who I loved as a child). He talked about his new book "What makes me a me?" which has just been published.
The connection between him and the children was very strong, with lots of interaction – he certainly kept them engaged. It wasn't just the children that were loving it – the adults were too! There were also a few touches of humour that engaged the parents. We were kept active by games such as "Guess Who" which got Faulks guessing which face a volunteer had chosen. The main message of the book was about growing up, being unique and special as well as being the only you! There was an educational element when the kids pretended to be seeds growing up and squealing "I'm a seed I'm a seed!" It was fun actually.
Next "Its Raining Men" blasted out on the speakers which was swiftly changed to a traditional rain dance that was euphorically danced to by children and parents alike. This was accompanied by many strange spitting sounds. Another of his books, "Watch out for Muddy Puddles" was introduced along with a ukulele that Ben whipped swiftly out of his bag. Everyone joined in on a rendition of "Singing in the Rain". After that, his acting came into practice when he did an entertaining sketch involving ropes, snorkels and muddy puddles.
Then, the show began to come to a close, with Ben offering to meet the children outside for photos and signings (of the book, which many people had purchased). I must say that I loved this event and I think that you would too – whoever you are! It was funny and engaging and a great day out! The Literature festival has only just begun so I would definitely recommend grabbing some tickets.
Anna, aged 12
---
"I can guarantee you won't grow into a pumpkin but you can grow into a teacher or a writer or anything you want."
It's a bright brisk morning. 11.00am comes quickly soon to be submerged into the Ilkley Literature Festival press pack, arriving at the Playhouse to Ben Faulks "What makes me a me?" show. The cosy secluded theatre making you instantly forget about the overcast grey sky that has now arrived outside. It was now 11.58am, the buzz of small children gathering inside the theatre for gradually more intense. 11.59…
Ben Faulks is originally a writer from Cornwall, studying drama at University. Ben went on to star in the CBeebies show Mr Bloom's Nursery. 12.00pm, he finally saunters in confidently on stage with the triumphant shouting from the children excited to see the man that was on their TV's.
He immediately asks questions to he audience, his animated expression and wide arms held the gaze of the 3-7 year olds. His book, "What makes me a me?" was recently published on the 7th September 2017 – he began to read the story to the audience – beautifully illustrated by David Tazzyman. He nicknamed the main character of the book Bloomy in relevance to his bouncy character as seen on TV. Faulks engaged the audience telling the "tiddlers" as he called them (small children), to act out the illustrations. The main message in the book was about expressing individuality. Faulks played Guess Who with the children, subsequently leading up to the roar of excited shouts and squeals as they had told the clues.
The book was interesting with some thought provoking themes for the children. His funny personality kept the adults intrigued also. Ben played on the idea of being an individual telling them that they can grow up to become anything, a teacher or a writer etcetera. He used the example of growing from a seed to a pumpkin, dramatically expressing this using his body.
The Literature Festival has lots to show, with Ben Faulks giving an example of what it has on offer.
Sophie