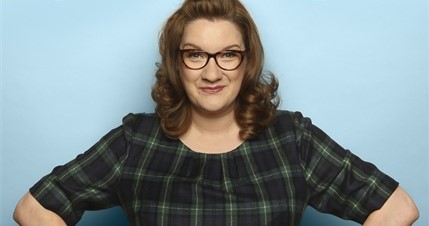 Sarah Millican, Victoria Derbyshire, Evan Davis and Shami Chakrabarti to Headline ILF17
We are excited to announce the first headline names for this year's Festival!
BAFTA award-winning English journalist and broadcaster Victoria Derbyshire will make her Ilkley debut on September 30 with her book Dear Cancer, Love Victoria: A Mum's Diary of Hope, published earlier that month. A first-hand account of the presenter's breast cancer journey from diagnosis through chemotherapy, including the decision to share her experiences in a series of video diaries which have gone on to attract over 13 million views.
Comedian Sarah Millican became a household name following her appearance at the 2008 Edinburgh Festival Fringe when she won the award for Best Newcomer. Her first book, How to be Champion: An Autobiography, is released on October 5 and Millican will be in Ilkley just a few days later – October 9, with an event that promises a heart-felt and humorous glimpse into her life.
Also appearing at the Festival for the first time on October 14 is former director of Liberty and life peer, Baroness Shami Chakrabarti, CBE. Chakrabarti is one of Britain's leading human rights campaigners and no stranger to controversy having been a panel member of the Leveson Inquiry in 2011/12 and chair of an inquiry into alleged anti-semitism in the Labour Party last year. Now Shadow Attorney General Chakrabarti focuses on gender equality with her new book Of Women which is released at the end of October, shining a light on the how gender injustice impacts health, wealth, education, representation, opportunity and security everywhere.
Returning to Ilkley is one of the UK's most well respected economic and political journalists, Evan Davis, who on October 14 will be discussing his most recent book Post-Truth: Why We Have Reached Peak Bullshit and What We Can Do About It. The third book from the current presenter of BBC television's flagship news programme Newsnight is a humorous look at the birth and proliferation of 'fake news' in the time of Brexit and Trump.
Rachel Feldberg, Director of the Ilkley Literature Festival, said: "It's with great pleasure that we announce the first four names appearing at this year's Festival. A diverse quartet of writers, each a leading light in their field, it's fantastic that Ilkley continues to be a magnet for such brilliant national names, industry professionals and cultural trailblazers."
The full programme will be announced on 17 August and tickets will go on sale to the general public on August 29.